There has been a lot of buzz in recent years about electric vehicles and hybrid vehicles. You might not have any interest in either and prefer your traditional gasoline-powered vehicle. Or you might be on the fence about whether you want to buy an electric or hybrid vehicle instead for your next purchase. Before you make a decision, consider both the good and bad about each vehicle type.
Pros And Cons Of Hybrid Vehicles
The top benefit of hybrid vehicles compared to electric vehicles is you don't have to worry about the range when traveling. Since it operates on gas also, you can simply fill up at the nearest gas station when the car is getting low and continue driving. This can prevent you from being anxious when you're out on the road knowing you won't run out of range.
The cost of a hybrid vehicle is roughly $3,000 more than its gasoline counterpart. But the positive trade-off is it produces fewer emissions since it operates partially on gasoline and the other part is electric.
Benefits And Drawbacks Of Electric Vehicles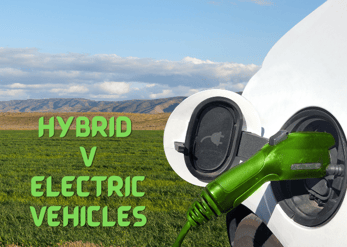 One of the main benefits of electric vehicles is the operating cost is lower compared to gasoline or hybrid vehicles. You don't have to fill up at the gas pumps, which can save a lot of money when you consider the price of gas. Electric vehicles are also not as expensive to maintain as hybrid vehicles since they don't have as many moving parts. Only the electric system has to be maintained rather than the electric and gas systems in a hybrid car. The range is arguably the biggest drawback of electric vehicles. Extreme hot or cold temperatures can impact the range so you won't be able to travel as far on a single charge at times.
Evaluate All Options Before Purchasing Your Next Vehicle
As you can see, there are unique positive aspects of both electric and hybrid vehicles. But there are also drawbacks to each. Many people who want to be more conscious about lowering their emissions but still want security and peace of mind opt for hybrid vehicles. Or if you're simply tired of paying high gas prices, then electric vehicles can save you money in the long term.
DeBoer's Auto is here to help you make informed decisions with anything related to vehicles. We provide maintenance on all types of vehicles so we have a good idea of the short-term and long-term costs of each type. If you're considering buying an electric or hybrid vehicle and have any questions or concerns, feel free to reach out to us at any time.