As Baby Boomers start getting older, getting them into vehicles is a little more challenging than it has been in the past. If you have an elderly loved one, pay attention to how easily they get in and out of their vehicle. The last thing you want to happen is for them to struggle and accidentally fall or injure themselves somehow. The good news is there are a number of devices that can help elderly people or those who have mobility challenges. Here are some of those devices you can consider investing in for safety.
How A Car Cane Can Help
A car cane is an easy device to get and is one of the most popular items people use when they need assistance getting in and out of their vehicle.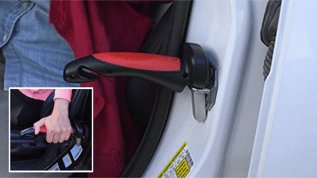 It attaches to the door latch when the door is open and has a long, heavy-duty handle to provide extra balance and support for the person. It's very easy to use and elderly people can access their vehicle with more confidence than ever before when they have a car cane.
Board That Installs Into The Door Latch
An accessibility board is a great device for people in wheelchairs. Like the car cane, it attaches to the door latch. But instead of providing a sturdy place to grab, the person can slide from the vehicle's seat across the board and into a wheelchair. You can never be too careful when helping people in wheelchairs and the accessibility board is a great device to help everyone involved.
A Swivel Can Improve Accessibility
For an elderly person who can still enter and exit the vehicle on their own, but needs a little help, a swivel is a valuable investment. The swivel goes on the seat and allows the person to pivot so they can easily get into the right position to enter or exit the vehicle with ease. It's a great investment to provide to an elderly loved one so you can have peace of mind knowing they won't have to struggle with vehicle accessibility.
DeBoer's Auto is here to solve any problem you might have with your vehicle. We want to ensure your driving experience is easy, especially for elderly people. Injuries can occur quickly in an accident, and most accidents are preventable. When simple accessories like these can prevent injuries, they are well worth the investment. If you have any questions or need any type of help with your vehicle, contact us at any time to see what services we offer.