Summer's here, so bring on the Barbeques and of course the sides. Oh, the sides. It seems that the bar has moved pretty high when showing up with a contribution. And yet, good old macaroni salad and potato salad always seem to be a hit. Not being a fan of mayonnaise (gasp, yes, I said it, and no I will not waver on this.) I usually look for a green salad or a tomato cucumber as my favorite. As a young girl, I remember my mom's Aunt Marie who brought a German Potato Salad and I was hooked and finally found something I really enjoyed. This is the one I pull out for special occasions.
Ingredients:
3 pounds new potatoes
1 yellow onion, quartered
1/2 pound bacon, diced
1 large red onion, diced
3/4 cup cider vinegar
1 tablespoon coarse mustard
1/4 cup canola oil or olive oil
Salt and freshly ground pepper
8 green onions, thinly sliced
1/4 cup chopped fresh parsley leaves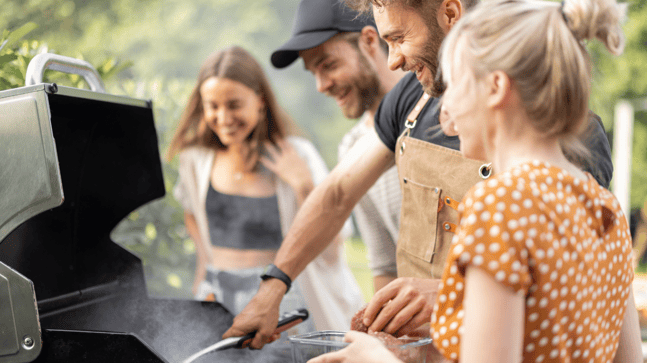 Directions:
Place potatoes in a large pot with the yellow onion and cover with cold water. Cook on high heat until tender. Drain water, and discard the onion. Cut the potatoes into cubes when cool enough to handle. Place the potatoes in a large bowl and cover to keep warm.
Heat saute pan to medium-high. Add the bacon and cook until crisp. Remove the bacon from pan and drain on a paper towel. Add the red onion to the rendered bacon fat and cook until soft, 3( to 4 min). Add the vinegar and mustard to the pan and cook for 2 more minutes. Whisk in the oil and season, with salt and pepper to taste. Add the hot dressing to the potatoes and toss gently to coat. Fold in the green onions and parsley. Season again with salt and pepper, to taste.
Great Aunt Marie left us many years ago, but her sweet memories and awesome recipes still remain.
We'd love to hear what makes it to your favorite Barbeque side dish list.