The best part of summer approaching is the food, especially when it's prepared on the grill. Don't get me wrong, I'm a fan of all food, all the time, but grillin' that's my favorite. I am of course a big fan of all the sides that accompany those delicious grilled dishes. I think you'll agree that this recipe, provided by Tom Ormond will be one to please the crowd for sure.
Ingredients:
3-4 slices bacon diced
1 small green cabbage, cored and shredded
1/4 small red cabbage, shredded
1 carrot, grated
1 cup sour cream
1 cup mayonnaise
1 teaspoon garlic powder
1/2 teaspoon onion powder
1/2 tablespoon sugar
1/2 teaspoon salt
1/2 teaspoon pepper
1/2 cup crumbled blue cheese
2 green onions, sliced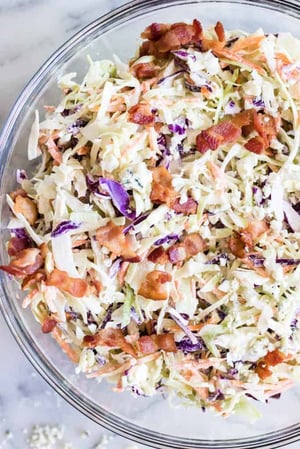 Cook diced bacon in a pan until crisp. Drain on paper towels and reserve.
Combine green and red cabbage and carrot in a large bowl.
In a medium bowl, mix together sour cream, mayonnaise, garlic powder, onion powder, sugar, and salt and pepper.
Add about 1/2 the dressing to the cabbage and stir to combine well. Keep adding dressing and stirring until all the cabbage is coated well. You may not need all the dressing.
Stir in blue cheese crumbles and green onion.
Sprinkle bacon on top.
Tina is always raving about how awesome this slaw recipe is and how perfectly it accompanies Tom's pulled pork recipe. Tom wasn't quite ready to share it yet, so here's Joe's, we think he was onto something with his recipe. Here's the link.