If you aren't sure what you want to do on any given day during the summer, consider fueling up your vehicle and taking a drive down Jersey Shore. Residents of New Jersey usually have their hot spots of places they like to visit, but with the Jersey Shore spanning roughly 140 miles, chances are you can drive until you find something you haven't experienced before. With plenty of parks to visit and food options to try, you'll find some attractions that will entertain you.
Parks To Visit On Jersey Shore
You'll come across several parks when driving along Jersey Shore. Some of the notable ones are Seaside Park and Island Beach State Park. Seaside Park has one of the cleanest beaches along the East Coast. The boardwalk in Seaside Heights is a great attraction to stop at if you want to take a walk and enjoy some beautiful scenery. Island Beach State Park has a sandy beach that spans nearly ten miles and is home to hundreds of different plant species and wildlife. It's a great beach to visit if you are looking for a relaxing day trip to get your feet in the sand and maybe do a little swimming in the ocean.
Endless Food Options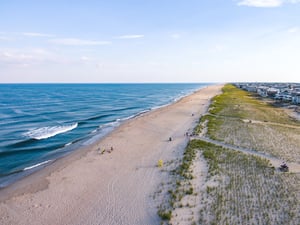 The food options on Jersey Shore are worth the drive themselves. You'll find a great restaurant to visit no matter what you're in the mood for. Surf Taco offers some of the freshest seafood along the coast. Maruca's Tomato Pies have some of the best pizzas you'll ever eat and they are located near the Seaside Heights boardwalk. And if you're in the mood for ice cream after spending time in the sun on the beach, Hoffman's is a must-visit place to try their homemade ice cream options. Look up different places online before you go or just drive down Jersey Shore and pull into whichever restaurant stands out to you when you get to it.
Fuel Up Your Car And Drive
Unplanned trips are sometimes the best because you never know where you'll end up. The great thing about Jersey Shore is you can have planned or unplanned trips and have plenty of things to do for the entire day. Discover all 140 miles of Jersey Shore in one day or spread out your adventure over several weeks and you'll never get bored, whether it's just you and a friend or if you have a car full of kids.
At DeBoer's Auto, we want your summer road trip to be successful no matter where it takes you. Your vehicle is one of the most important components of your trip, so it's best to get it inspected to ensure there are no problems that may bring your trip to a halt. We can identify problems before they become major issues so you can have peace of mind knowing you're driving a reliable vehicle. Be sure to contact us a few days before your trip and we will make sure you have a safe and fun experience without fear of your vehicle breaking down.