What isn't there to like about chocolate and strawberries? Chocolate-covered strawberries are one of my favorite special occasion treats and even though I could probably justify eating them for breakfast, it's probably not a suitable dish to serve for others who are looking for sustenance and possible nutrition. (but, in my mind there are strawberries which are fruit, and chocolate, well it has antioxidants so this would be just fine for me 😀) I found this little gem of a recipe when
I visited my friend for the weekend in Connecticut. Viola, it's the perfect answer to chocolate-covered strawberries being suitable for breakfast! I was immediately a happy girl! so, without further ado I give you. Chocolate, strawberry crepes.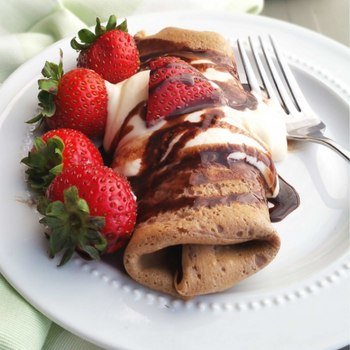 Ingredients
Crepe Batter:
4 Eggs
1 C Flour
3 T White Sugar
1 1/3 C. Skim Milk
1 T Butter; melted
1 T Vanilla
3 T Cocoa Powder
1 T Lemon Juice
Filling:
1/2 C Heavy Cream; Whipped
14 Oz. Can Sweetened Condensed Milk
1/4 C Lemon Juice
15 Strawberries; sliced into thirds lengthwise and lightly coated with sugar
Chocolate syrup
Instructions:
In a blender add Eggs, Flour, Sugar, Skim Milk, Butter, Vanilla, Cocoa Powder, and Lemon Juice.
Blend until smooth.
Refrigerate the batter for 1 hour.
Prepare crepes by lightly spraying a small skillet with cooking spray.
Heat skillet to Medium Heat.
Pour a thin layer of batter into the skillet to get an even coverage of the batter.
Cook until crepe begins to lightly brown (approximately 1 minute).
Flip the crepe and cook opposite side for around 30 seconds
Filling:
Whip the heavy cream on high speed with a mixer until it begins to thicken, set aside.
In a mixing bowl add sweetened condensed milk and lemon juice. Beat on high until it begins to thicken.
Fold together whipped cream and sweetened condensed milk mixture.
Assemble the Crepes:
Add sliced strawberries to the middle of each crepe and top with cream mixture.
Fold the crepe into thirds and place it on a serving dish.
Add a strip of cream down the middle and garnish with strawberry slices and chocolate syrup.
Thanks, Christine Dumond for making this delicious breakfast for me and for giving me the recipe. If you weren't already my best friend, this dish would definitely put you in the running!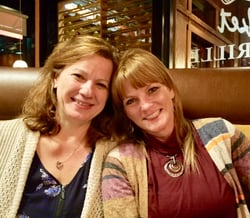 If you have a favorite recipe you would like to share, please do so. We love to explore new recipes, actually, we just really like to eat them.