Any business owner knows how important referrals are. Every industry and trade has plenty of competition and it's easier than ever for customers to look online to find a professional best suited for them. And when a customer comes into your shop or store, you have one chance to make a good impression. If you do, then you may earn several other customers as a result. We take referrals seriously and have also developed a program to help our customers who provide a service as well.
Earning Referrals Requires Providing Great Service
Customer referrals make up a big part of our business at DeBoer's Auto. That's one of the many reasons why we do the best job possible when working on a customer's car. When we provide outstanding service, our hope is you will be so satisfied that you tell your friends and family about us. We wouldn't expect you to do so if our service did not meet your expectations, so we go above and beyond to exceed your expectations. As much as we feel like it's our duty to provide top-notch automotive services, we also enjoy helping our customers in other ways as well.
We Help Our Customers With Referrals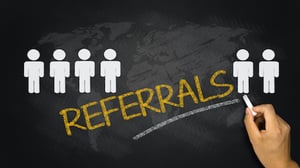 Many customers we work with have their own businesses or provide a specific professional service. We also are involved in networking associations where we have met some ethical, smart, and talented professionals over the years. When we meet these professionals and build relationships with them, we include them on our list of referrals to provide to customers if asked. People always need specific things done around their house and may not have the tools, equipment, or knowledge to complete the task, but chances are we can provide you with an expert to get the job done for you.
Find The Help You Need Today
Finding good help today is no easy feat. You can spend hours searching online for a reputable business or professional to accomplish a task for you, and you still don't know how good their service is until you try them. And there's nothing worse than calling multiple people you find online and very few of them call you back, if they even call you back at all. But when you ask us for a referral, you can feel confident knowing we've done the homework for you and will only refer you to a professional we trust based on the relationships we have developed with them.
At DeBoer's Auto, we enjoy learning more about our customers and take great pride in developing relationships. We work with many talented people and appreciate receiving referrals from them. The least we can do sometimes is return the favor and help their business out by referring other customers to them. Whether you're a business owner, provide a specific service, or if you're one of our customers who needs a trustworthy professional to help complete a project, contact us and we would be thrilled to help.