Summer is Tow Time. Towing a trailer or boat can enhance your summer fun, but it can also create unexpected expenses. The process of towing puts additional wear and tear on your vehicle and increases the risk of an accident or other problem along the way. As you ask "can my vehicle tow a boat?" or "can my vehicle tow a camper?" you must also consider how to prepare your vehicle for towing.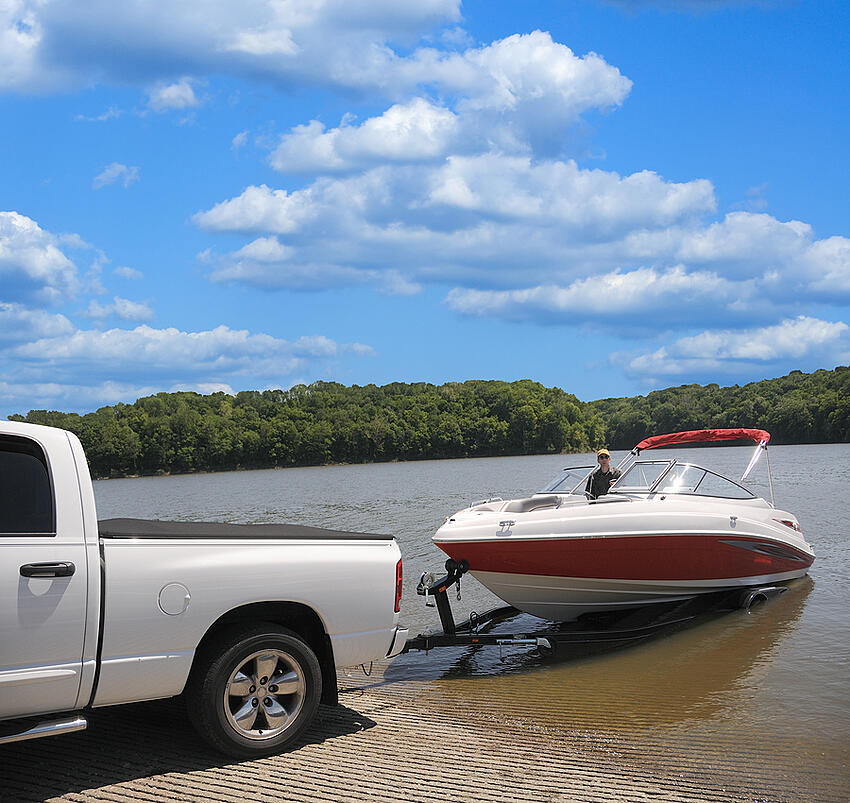 Check the Tires
The tires play a significant role in your towing capabilities. In addition to checking the air pressure in the vehicle and the trailer, check the tread and the weight limits on the tires. This information will ensure you can safely transport your camper or boat to its destination. Always make sure you have a spare for your vehicle and the trailer.
Reduce Your Blind Spots
Most vehicles aren't built to exact towing specifications. When you have a large trailer behind you, your blind spots become more numerous and larger. Installing wider towing mirrors can help you reduce these blind spots so you can drive more safely.
Check Your Vehicle Systems
Many of the vehicle's systems undergo additional stress when towing. If you ever asked "is towing hard on my transmission?" or "is towing hard on my brakes?" the simple answer is, "Yes." Check your fluid levels and top off anything that is low, including transmission fluid and oil. This reduces the risk of overheating. Take a close look at your brakes and make sure the brake pads have plenty of life. Check all the lights on your vehicle and trailer.
Get Training on How to Hitch
Using the right hitch is just one aspect of proper towing. If your vehicle didn't come with a towing package, make sure your mechanic knows the weight and type of trailer you will tow to ensure they install the right one. Learning how to properly hitch your trailer to your vehicle offers better protection. As you hitch up, check the following:
The pin connecting to the ball mount is intact.

The hitch coupler is fully secured.

The spring bar hinges are tight and clips are in place.

The safety chains are securely attached.

The electrical plug is tightly secured.
Take a Test Run
The final step before taking your big road trip is to take a test run. Hook up your camper or boat trailer and take it for a ride around familiar territory. This allows you to get a feel for the trailer and learn how to handle it properly. It also gives you some practice in using any additional equipment, such as a brake controller or equalizer hitch.
Before you start towing this summer, make sure you protect yourself and your family by completing the necessary steps for safe towing. Whether you are taking a boat to the Jersey Shore or your camper to the Adirondacks or Poconos, being prepared will make your trip more enjoyable.
Are you getting your vehicle ready to tow for upcoming vacation travels? Contact us. We can help you prepare your vehicle for towing this summer by completing the necessary checks and maintenance to keep your vehicle safe.