You've done your research, shopped around, requested a vehicle history report if you're looking at pre-owned cars and finally found "the one" at a price that, on the surface, seems right. That's just the first step in buying a car. Once you've made your decision, the poker game begins. It takes place not at a table surrounded by your friends, but at a desk face to face with someone whose desired end game is opposite of yours. He wants to sell you a car at the highest price he can and you want to buy that car at the lowest price possible. Have you perfected your poker face?

When You Prefer to Simply Buy a Ride Rather Than Get Taken On One
Haggling and wheeling and dealing is all part of the car-buying process, right? The truth is, it doesn't have to be. One of the benefits of buying a car from a reputable dealer is many of these sellers have embraced a new way to think about car buying. That novel view involves no-haggle pricing. You don't negotiate how much you'll pay for most goods and services so why should you need to in order to get the best price on a car?
Be Aware of These Hidden Costs of Purchasing a New or Pre-owned Car
If you're considering buying a car and the salesman suddenly mentions "extra" fees that will be tacked onto the purchase price, it's time to speak up. You're in the driver's seat and can often use those fees to negotiate a lower price on the car you're interested in. After all, they can really add up. Some fees (including state and local sales taxes, vehicle registration fees and reasonable documentation fees) are to be expected. Others, including destination and delivery, fabric protection, floor plan and advertising fees, are "made up" charges designed to drive up the sales price.
Also be wary of pricey add-ons like "paint protection" or a "security" fee you'll pay to have your VIN number etched into car parts. If a salesman is trying to stick you with these fees and refuses to budge, it's your prerogative as a consumer (and it's often smart) to walk out. Don't fall victim to unexpected, phony fees.
Don't forget to research the fair price of a vehicle by using a Kelley Blue Book or NADA guide. It's also a good idea to compare the price you're quoted with other dealerships.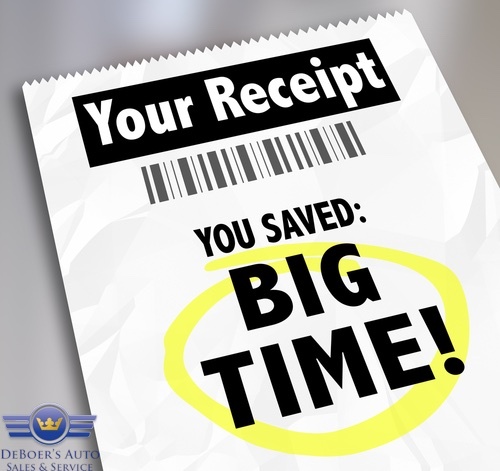 A Good Deal Is One You Feel Good About
There are many factors to consider when purchasing a new (or new-to-you) vehicle. If you're in the market for a new car and want to avoid being taken for a ride, contact us at Deboer's Auto Sales and Service. We would love to sell you a quality pre-owned vehicle, but more than that, we would love to gain you as a long-time customer by providing a reliable car at an outstanding price, without gimmicks, tricks or shady practices that some dealers use to make a sale. We don't want you to leave our car lot wondering, how do I know I'm getting a good deal? We want you to drive off smiling and feeling pleasantly surprised by how painless your car-buying process was.