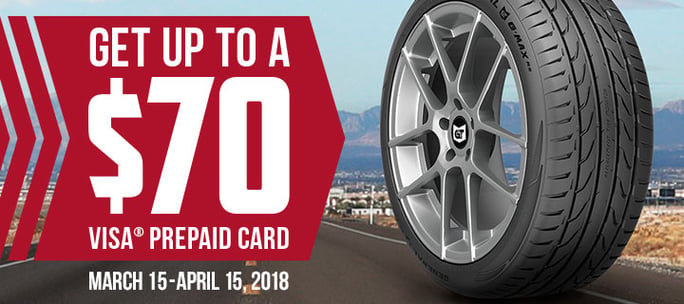 GET UP TO A $70 PREPAID CARD
This promotion is valid on purchases made from March 15th, 2018 through April 15th 2018.
You must submit your rebate claim by May 15th, 2018.
HOW TO SUBMIT YOUR REBATE ONLINE
Rebates submitted online are processed faster.
To submit your rebate online click the "Submit Your Rebate" button above or go to:

www.generaltire-rebates.com.
Follow the easy step-by-step instructions.
No mail in form required.
Must have a valid email address.
HOW TO SUBMIT YOUR REBATE BY MAIL
To submit your claim by mail complete the rebate form and mail with a paid invoice no later than May 15th, 2018 to:

General Tire Offer #17-30488 PO Box 540012, El Paso, TX 888554.
Include paid invoice along with the rebate form.
QUALIFICATIONS:
Valid with the original, dated, paid receipt for the purchase of four (4) new qualifying GENERAL TIRE PASSENGER or LIGHT TRUCK tires from a participating retail dealer.
Tires must be purchased in a single transaction.
Fleets, wholesalers, commercial accounts and purchases for resale will not qualify.
Two entries per household will be accepted.
Invoice must be marked with a paid stamp or be accompanied by credit card receipt.
This promotion is void where prohibited by state Law.
Offer valid in fifty (50) contiguous continental U.S. states and D.C.
Entires must be entered online or postmarked by May 15th, 2018.
ELIGIBLE TIRES:
(Tires not listed will not be accepted)
REWARD CARD
QUALIFYING TIRE MODELS
$70
GRABBER™
GRABBER™ AT2
GRABBER™ UHP
GMAX™ AS-03
GRABBER™ A/T

X
GRABBER™ HD
GMAX™ RS
GRABBER™ X3
GRABBER™ APT
GMAX™ AS-05
GRABBER™ HTS60
$50
AltiMAX™ ARCTIC12
AltiMAX™ RT43
GRABBER™ AW
GRABBER™ TR
AltiMAX™ ARCTIC
AMERITRAC™
GRABBER™ ARCTIC LT
AltiMAX™ HP
AMERITRAC™ TR
GRABBER™ HP
GRABBER™ ARCTIC
AltiMAX™ RT
EVERTREK™ RTX
GRABBER™ HTS
IMPORTANT DETAILS ABOUT YOUR REBATE PREPAID CARD
Prepaid Cards will not have cash access and can be used everywhere Visa debit cards are accepted.
<li
Card is non-transferable, non-refundable and will not be re-issued once expired.
Each time you use the Card, the amount of the transaction will be deducted from the amount of your available balance.
Card will be issued in the name on the redemption form only.
Card expires after 12 months, subject to applicable law.
Card is non-transferable and non-refundable.
Terms and conditions apply to the Prepaid Card.
PROMOTION TERMS AND CONDITIONS
*MAIL-IN REBATE WITH PURCHASE OFFER: VALID ONLY WITH QUALIFIED PURCHASE MADE IN THE FORTY-EIGHT (48) CONTIGUOUS CONTINENTAL U.S. STATES. HAWAII. D.C. AND PUERTO RICO BETWEEN 03/15/2018 THRU 04/15/2018.OR WHILE SUPPLIES LAST. VOID WHERE PROHIBITED BY LAW. NO RAIN CHECKS. VALID WITH THE ORIGINAL, DATED, PAID RECEIPT FOR THE PURCHASE OF FOUR (4) NEW QUALIFYING GENERAL TIRE PASSENGER OR LIGHT TRUCK TIRES. OFFER MAY NOT BE COMBINED WITH ANY OTHER OFFER, DISCOUNT, REBATE, OR PROMOTION. TIRES MUST BE PURCHASED IN A SINGLE TRANSACTION. OFFER FORM MUST BE POSTMARKED OR SUBMITTED ON LINE BY 05/15/2018. OFFER NOT VALID ON PURCHASES BY WHOLESALERS, DEALERS, FLEETS, OEM CUSTOMERS OR OTHER COMMERCIAL ENTITIES. REQUESTS FROM THOSE WITH AN INVALID OR UNDELIVERABLE MAILING ADDRESS WILL BE DENIED. LIMIT TWO (2) GENERAL TIRE VISA PREPAID CARDS PER HOUSEHOLD. NO CASH ACCESS OR RECURRING PAYMENTS. CAN BE USED EVERYWHERE VISA DEBIT CARDS ARE ACCEPTED. CARD VALID FOR UP TO 12 MONTHS: UNUSED FUNDS WILL BE FORFEITED AT MIDNIGHT EST THE LAST DAY OF THE MONTH OF THE VALID THRU DATE. CARD TERMS AND CONDITIONS APPLY, SEE MYPREPAIDCENTER.COM/SITE/VISA-PROMO. NOT RESPONSIBLE FOR LATE, LOST, STOLEN, MISDIRECTED, ILLEGIBLE, MUTILATED, OR POSTAGE DUE MAIL OR INABILITY TO CONNECT TO WEBSITE. ANY TAXES, FEES OR COSTS ARE SOLE RESPONSIBILITY OF RECIPIENT. ALLOW 8-12 WEEKS FOR FULFILLMENT. EACH TIME YOU USE THE CARD THE AMOUNT OF THE TRANSACTION WILL BE DEDUCTED FROM THE AMOUNT OF YOUR AVAILABLE BALANCE. CARD WILL BE ISSUED IN THE NAME ON THE REDEMPTION FORM ONLY. EXPIRATION DATE OF CARD IS ON FRONT OF CARD. SUBJECT TO APPLICABLE LAW. CARD IS NON-TRANSFERABLE AND NON-REFUNDABLE. CARD WILL NOT BE RE-ISSUED AFTER EXPIRATION DATE. ADDITIONAL TERMS AND CONDITIONS APPLY TO THE CARD. SEE CARD PROGRAM WEBSITE FOR DETAILS. VISIT WWW.GENERALTIRE.COM FOR REDEMPTION FORM AND COMPLETE OFFER CONDITIONS AND RESTRICTIONS. WARNING: TAMPERING WITH, ALTERING OR FALSIFYING PURCHASE INFORMATION CONSTITUTES FRAUD AND COULD RESULT IN STATE AND FEDERAL PROSECUTION.