Everyone should like driving their vehicle no matter how often they drive it. The good news is if you've ever thought that a certain feature could make your driving experience more enjoyable, then chances are there's an accessory that can help you out. Here are some of the most popular accessories people add to their vehicles to help them get more enjoyment out of them.
Seat Cushion
People who have a hard time seeing over the steering wheel due to their height will often buy a latex foam cushion to raise them up a bit. Others who may not feel as comfortable in the seat from the manufacturer can enjoy a more comfortable driving experience with a seat cushion. A new seat cushion could be valuable for people with back problems who have to drive for extended periods.
Steering Wheel Covers
Some vehicles are equipped with heated steering wheels to keep your hands comfortable while driving on cold days. If your vehicle doesn't have this feature, then a steering wheel cover can be the next best thing. With so many different styles, colors, types, and materials, you can find the perfect one for comfortability and fit your personality.
Rubber Floor Mats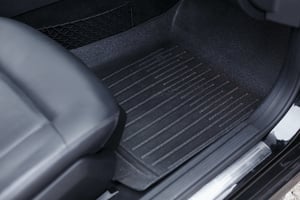 Rubber floor mats are great to have if you want to keep your vehicle clean. They are easy to remove and shake the dirt off and then put them back. You don't have to worry about them staining as you do with carpeted floor mats, and they are simple to hose off when they get dirty. Consider putting rubber floor mats in your trunk as well to keep every floor surface of your vehicle clean.
Air Freshener
The interior of vehicles can get stagnant over time and lead to musty smells when you enter the vehicle. An air freshener is a great way to combat this and hop into a great-smelling vehicle every time you go for a drive. You can get air fresheners that hang from your rearview mirror, attach to your air vents, or other varieties to help your car smell great.
Bluetooth Accessories
Most newer vehicles have Bluetooth capabilities built into them, but you can still have a Bluetooth vehicle even if you have an older one. Connecting your phone to your stereo system is a great feature to have, and you can add this accessory if it's something you would like to have. Phone holders are also nice to have for convenience and safety purposes. Some phone holders go into the cup holders or attach to the vents to give you easy access to your phone.
DeBoer's Auto keeps your vehicle running smoothly and also helps you enjoy your vehicle a little more. If you are looking for different ways to accessorize your vehicle and have some ideas, feel free to run them by us if they are too complex to do on your own. It's amazing what something as simple as a seat cushion can do for your overall driving experience. We are always happy to help in any way we can, so contact us at any time.