The cold of winter is rapidly settling in. Are there mornings when you get into your car and say a little prayer that she's going to start? The cold puts a lot of demand on your battery, and if it's not turning over, you're not going anywhere quickly.
That's why it's the perfect time to have your ASE-certified technician here at DeBoer's Auto do a pre-winterization check. If your vehicle's battery isn't performing at its optimum level, you could find yourself literally left out in the cold.
Technet is featuring their DieHard Battery promotion, now through January 31, 2022. You can get up to $25 back with a qualifying battery and installation. The "icing" on this deal is that with Technet you also have their 24-month or 24k mile warranty on all their battery products.
Get up to $25 back on a qualifying battery purchase and installation at your local TechNet Professional service center.
$15 Back - DieHard Gold, ACDelco Silver, Autopart International, Bosch Quality Performance, Motorcraft Fleet Tough 12-Month
$20 Back - DieHard Platinum, Bosch Premium Performance, Motorcraft Fleet Tough 18-Month, World Source One Exact Fit
$25 Back - DieHard Platinum AGM, DieHard EV, ACDelco Gold AGM, AutoPart International AGM, Bosch High-Performance AGM, Motorcraft Fleet Tough 36-Month, World Source One Exact Fit AGM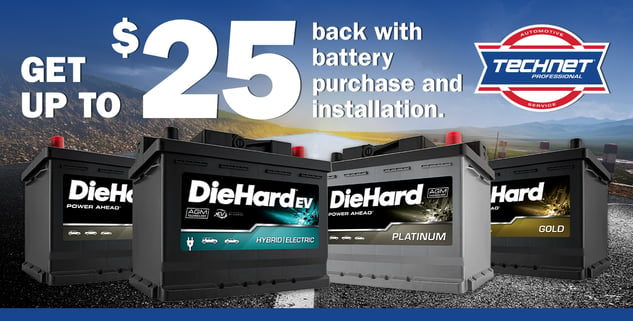 Make sure that you have the confidence that your vehicle is at proper performance levels before you are faced with an unfortunate situation this winter. Contact us and we'll make sure that you are charged and ready for the months ahead.