Whether you're practicing safe social distancing or if you just prefer being in wide-open areas, Delaware National Park is a place you should visit this summer. The scenery itself is worth the trip, but there are so many different activities you can do for endless family fun. Delaware National Recreational Area is located between Sussex and Warren counties and is easily accessible no matter where you're coming from.
Buttermilk Falls Is A Can't-Miss Attraction
You're encouraged to explore the entire park to see all of the great scenes and attractions, but Buttermilk Falls is an attraction you won't want to miss out on. It's a beautiful high waterfall with stairs that go right alongside it if you wish to venture to the top. Many people also just enjoy sitting at the bottom and watching the beauty of nature at work with the waterfall. Another great thing about Buttermilk Falls is it can be accessed by vehicle if you don't want to walk or have someone in your vehicle who can't walk very far. Just be cautious when driving since the roads aren't paved and it can be easy to go off roading if you're looking at the waterfall instead of the road.
Enjoy Your Time On Appalachian Trail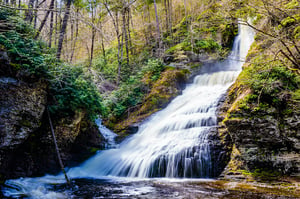 You can also access Buttermilk Falls via the Appalachian Trail if you're looking for a more adventurous way to get there. With access points throughout the trail, you will know exactly where you're going for a safe and fun experience. Or if you just want to take a day and get your heart rate up, you can walk on the Appalachian Trail for miles at a time and see some beautiful sights on your journey.
Stay Safe For An Enjoyable Outdoor Adventure
Delaware National Recreational Area is one of the safest and friendliest places you can visit this summer. It's a great place to get away for the day and enjoy nature at its finest. As always when visiting national parks, do your part to keep the parks cleaner than when you arrived so everyone can continue enjoying their beauty for years to come. Stay safe and cautious when visiting Delaware National Recreational Area and Buttermilk Falls and you can create unforgettable experiences for yourself and your family.
When you're getting ready for your summer road trips, DeBoer's Auto is here to make sure you get to and from your destination safely. It's especially important to have your vehicle inspected if you plan on driving up to Buttermilk Falls. The last thing you want to happen is to get stranded on a dirt road with no assistance nearby. Take that worry away and contact us today to schedule a thorough vehicle inspection so you can have peace of mind with your vehicle.