What thanksgiving would be complete without mashed potatoes? I think I would have to call a walkout if they tried to pull that at my house. Corey keeps coming up with tasty, delightful and delicious recipes. These are so delicious you can actually skip the gravy!
Ingredients
6 medium potatoes, peeled, and quartered
1 tablespoon salt
1/4 cup butter, melted
1 cup Sour Cream
1 cup shredded sharp Cheddar cheese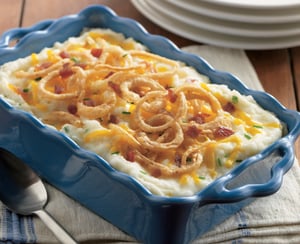 2 tablespoons chopped fresh chives
1/2 cup French fried onions
2 tablespoons cooked bacon pieces


Directions
Heat the oven to 325 degrees. Butter a 1 1/2-quart casserole dish. Place the potatoes in a 3-quart saucepan; cover with cold water. Add 1 tablespoon of the salt and bring to a boil. Cover the potatoes, reduce the heat, and cook for 20 minutes or until fork-tender. Drain the potatoes. Put pan back on burner for 1 minute, shaking the pan until the potatoes are dry. Mash the potatoes with potato masher. Add butter, sour cream, cheese, chives, remaining 1/2 teaspoon salt. Mash or stir until mixed well. Spoon the mixture into a casserole dish. Bake the potatoes for 20 to 25 minutes or until hot. Remove from oven and sprinkle with the onions and cooked bacon pieces. Return to the oven and bake for an additional 5 minutes.