This recipe is a "famous favorite" of the Giannetti family. 
It's the perfect dish to serve for a quiet family dinner. Joe's family spends their Sunday's preparing for
family dinners. If they're lucky, there are left overs for some next-day chicken parm sandwiches.

4 boneless, skinless chicken breasts, pounded thin.


Salt black pepper


2 cups flour, season with salt and pepper
4 large eggs, beat, add 2 tablespoons water, salt and pepper


2 cups panko bread crumbs
1 cup olive oil
Tomato Sauce- recipe below
1 lb mozzarella, thinly sliced
1/4 cup grated Parmesan
Tomato Sauce:
2 tablespoons olive oil
1 large onion, finely chopped
4 cloves garlic, smashed
2 28-ounce cans plum tomatoes - pureed in a blender
16-ounce can crushed tomatoes
1 small can tomato paste
1 bay leaf
1 small bunch of Italian parsley
1 chopped Cubano chile pepper
Salt and pepper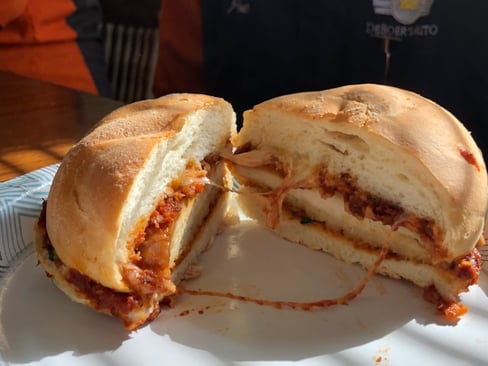 Preheat oven to 400 degrees F.
Season chicken with salt and pepper. Dredge each breast in the flour, dip in egg mixture,
dredge on both sides in the bread crumbs.
Using 2 large saute pans divide the oil, heat over high heat.
Adding 2 breasts at a time to each pan, Cook
about 2 minutes per side
until golden brown. Transfer to a baking sheet, top each breast with some Sauce, a few slices of mozzarella, salt and pepper, sprinkle with Parmesan.
Bake in the oven about 5 to 7 minutes, when the cheese is melted and chicken cooked through. Remove from the oven.
Tomato Sauce:
Heat oil
over medium heat
in medium saucepan. Add onions and garlic and cook until soft. Add pureed, crushed tomatoes, tomato paste, 1 cup water, bay leaf, parsley, Cubano pepper, and bring to a boil.
Salt and pepper to taste. Reduce heat and cook until thickened, approximately 30 minutes.
For tasty subs: loaf of Italian bread or round roll. Pull out some of the bread in the middle, spread some sauce, load on the chicken with cheese. Place in broiler for about a minute until cheese is melted.
Thanks to Joe for this delicious recipe. (Wipe your chin dude! 😜)
If you have a favorite dish you'd like to share, please upload it and we can include it in one of our next newsletters.