Cookie Day is a tradition that my best friends family has done since she was a little girl. I was lucky enough to get invited to it one year, (for tasting purposes) and I was in awe at how they worked together. Her mom, aunts and cousins all arrived with mixers, bowls, measuring utensils and all the makings for the batter for the cookie that they were assigned, AND they brought dozens of cookies they had already made at home. They worked all day, the sound of the mixers the smell of the cookies
the chatter and laughter was such a pleasure for me to witness. When all the cookies were made and the last batch was cooling they would break for dinner and then the distribution began. They would bring in one type of cookie at a time. They would circle around the table each with their Tupperware container or foil pan and take their share, then on to the next type of cookie, then the next. This could take over an hour as they made about 20 plus types of cookies. Everyone would leave that night exhausted but packing the "mother load" of sweets. At some point over the years I moved from popping in for a hello and nibble and joined into the fun. It's something I look forward to every year. This is the recipe I've been making for years. I hope you enjoy!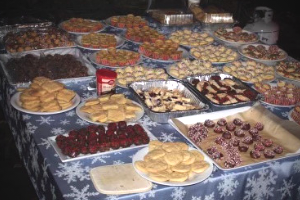 Ingredients
¾ cup pecans
1 cup butter
¾ cup white sugar
1 large egg yolk
1 teaspoon vanilla extract
¼ teaspoon salt
1 ¾ cups all-purpose flour
Directions
Preheat the oven to 375* Spread pecans out on a baking sheet.
Bake pecans until fragrant and lightly toasted, 5 to 10 minutes. Cool completely, chop in a food processor.

Beat butter in a large bowl with an electric mixer until creamy. Add sugar and beat until light and fluffy, beat in egg yolk, vanilla extract, and salt. Slowly mix pecans into butter mixture. Stir flour into pecan mixture until dough begins to come together.

Roll the dough into a ball and divide it in half. Roll each dough half into a 1 1/2-inch thick log. Wrap each log in wax paper and refrigerate, 4 hours to overnight.
Preheat the oven to 350*.
Unwrap dough logs and cut into 1/3-inch thick slices. Place slices a baking sheet with parchment paper.
Bake in the preheated oven until golden around the edges, 12 to 15 minutes.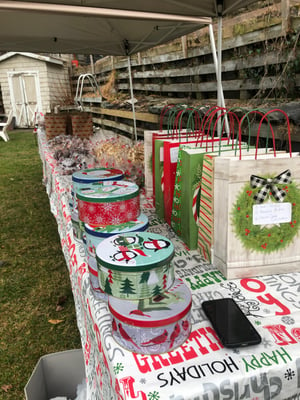 This year, cookie day went a little differently than in the past. The social distancing made in impossible for us to all gather and work together, but my friend Carrie had a wonderful idea. We all took on extra cookies to make at our own homes and divided them into bags. We arrived to fire pits blazing in her yard and tables set up for the bags to be displayed and distributed. Thankfully it was a mild and dry day in December, but she set up a hot cocoa station and a some snacks and all the makings for s'mores. We all kept the appropriate distance and wore our masks, but even in a pandemic, the much loved Cookie Day lives on!