As with most vehicle parts, car batteries have limited lifespans. Even the best batteries eventually fail and need to be replaced. Before you assume your best bet is to head to the local auto parts store to buy a car battery, think again. There are several key advantages of having an auto technician replace your battery.

What to Expect from an Autozone or Advanced Auto Parts Battery Purchase
First and foremost, what you can expect when you buy a battery from Autozone or Advanced Auto Parts is an array of choices. Some are better than others and you may not know which one to go with. It can be difficult to make a decision when all you have to go on is price. They are also not in the business of diagnosing vehicle problems either. If you're not certain battery failure is the reason your car won't start, you may be buying a battery you don't even need.
Additionally, when you head to Autozone or Advanced Auto Parts to buy a battery, you'll find a wide array of products for your car battery replacement. More is not always better. As well-intentioned as you may be, you probably don't have time to conduct thorough research on how well Brand A stacks up to Brands B and C and to form an educated opinion on which battery is best. The sales people at auto parts stores are trained to be objective. And, more importantly, they're usually not service technicians. They may know little more than you do about the pros and cons of various brands.
Benefits of Choosing DeBoer's Auto Sales and Service for Your Battery Replacement
Unlike Autozone, Advanced Auto Parts, and many other big-box auto parts sellers, DeBoer's Auto Sales and Service provides turn-key vehicle service, preventive maintenance and repairs. First, we sell vehicle batteries, but not just any vehicle batteries. When you purchase your new automotive battery from us, you eliminate the guesswork of trying to decide which brand to choose. We have already done this research for you and we sell only CarQuest Premium batteries. Not only are they top-quality premium batteries with a two year warranty, they're also proudly made in America.
Unlike Autozone and Advanced Auto Parts, which sell you a battery and send you on your way, we complete the entire process for you. Before we even sell you a new battery, we will test your existing battery for free to make certain you need a new battery in the first place. If you do need a replacement, we'll sell it you — then install it and dispose of your old battery. What's even better than that convenience factor is the fact we will not charge you a penny for battery testing or installation.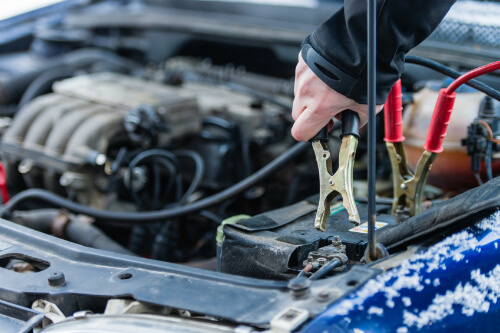 Preventive Maintenance Can Save You Time and Money
The smartest approach to ensuring the reliability of your car battery is to replace a battery before it fails. When you remain up-to-date with your preventive maintenance servicing, you'll know in advance when your battery charge is less than optimal. When you trust your vehicle maintenance and repair to DeBoer's, we'll test the charge of your battery for free, sell you a top-quality CarQuest battery and install it for you on the spot, free of charge. You'll drive away with peace of mind, money in your pocket and an outstanding battery. The next time your vehicle needs a battery or a battery test, contact us at DeBoer's Auto Sales and Service.