At the heart of its mission, the Foodshed Alliance aims to support sustainable farming, promote local and nutritious food, and safeguard the environment for the benefit of all community members.
LocalShare is an incredible program that fights food insecurity by rescuing farm-fresh, healthy foods and donating them to local food pantries, soup kitchens, and other recipient agencies. To expand its reach, LocalShare collaborates with local partner organizations to host Free Pop-Up Produce Markets year-round.
Foodshed Alliance's Local Share program harvests surplus crops from farms in Sussex and Warren counties to distribute fresh healthy food to those in need. Volunteers collect and harvest the crops, which are then distributed to food pantries in the area and stored in exterior coolers at locations like Sussex County Community College.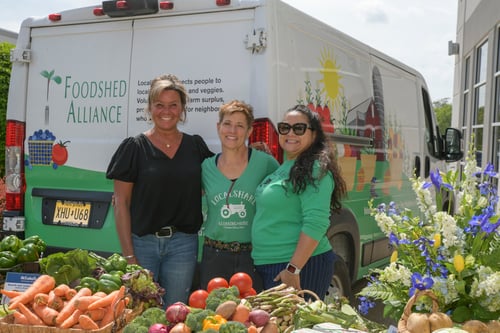 Throughout the summer and fall, Foodshed Alliance hosts free produce and pop-up markets, providing a smaller version of a farmers market where fresh and healthy food is given away without needing identification. People in need are encouraged to come and take what they need in a welcoming and comfortable environment without judgment or hassle. Additionally, the pop-up markets offer tables set up to provide helpful information and resources for various situations. The Foodshed Alliance strives to offer more than just fresh produce to those in need. Through their pop-up markets, they offer recipes that incorporate the available produce and educate attendees on the nutritional benefits of various fruits and vegetables. Understanding that food insecurity often comes with other struggles, they also connect attendees with other organizations, like Norwescap and social services, to provide additional resources. By bringing these organizations together, everyone involved benefits and moves towards a brighter future.
When farmers have an excess of crops, they often donate them to organizations like the Foodshed Alliance's Local Share program. However, farmers face challenges such as the lack of workers to harvest the crop and the expense of hiring them. Fortunately, groups and volunteers who lend their time and support have a tremendous impact on the farmers, allowing them to harvest the crop and provide fresh, healthy food to those in need. Not only does this benefit the community, but it also helps to improve the soil quality. Without the support of volunteers and organizations like the Foodshed Alliance, surplus crops would be sent off to hog farms or compost facilities.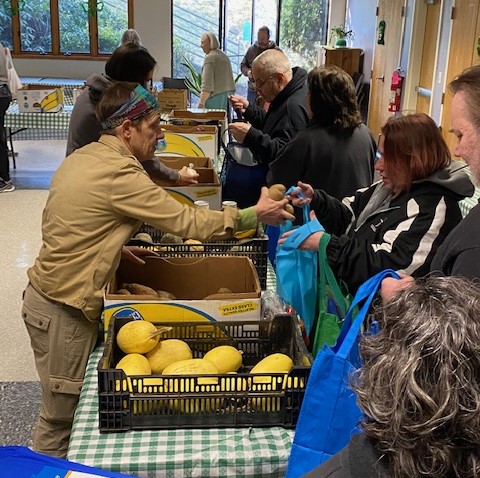 Produce has a short shelf life, and in some cases, it needs to be on the table the same day it is picked, packed, and shelved. As previously mentioned, the Foodshed Alliance relies on the aid of volunteers to support their programs. They have received assistance from various groups such as youth organizations, scout troops, and community groups who have helped with tasks such as picking, packing, and delivering the fresh produce to locations and food pantries, ensuring that it ultimately reaches the families in need.
If you have some free time and want to help, there are many volunteering opportunities available! You can participate by gleaning (harvesting) produce from local farms, delivering to local partners, or helping to serve at Free Pop-Up Produce Markets. Remember, many hands make light work! If you're interested in volunteering, visit https://www.localsharenj.org/gleaning-calendar/ to see our volunteer calendar and sign up for upcoming dates. For more information about the LocalShare program, contact Christine@FoodshedAlliance.org. To make monetary contributions simply go to FoodshedAlliance.org/donate.
Don't miss our FoodShed Alliance Gala on October 25, 2023, at 6:00 pm at the wonderful
Perona Farms. Proceeds fund the work of helping New Jersey's family farms thrive,
provide access to farm-fresh healthy local food for all, regardless of
means, and protect our rural environment. Find out more here!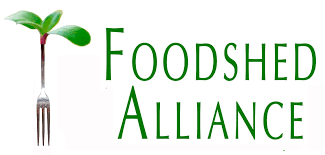 Foodshed Alliance
Office location:
326 High Street
Hope, NJ 07844
Mailing address:
P.O. Box 713
Blairstown, NJ 07825
ph: (908) 362-7967
FoodshedAlliance.org
FoodshedAlliance.org/donate

Social Media Pages:
Facebook
Foodshed Alliance: https://www.facebook.com/foodshedalliance/
LocalShare: https://www.facebook.com/LocalShare
Paulins Kill Watershed: https://www.facebook.com/PaulinsKillWatershed
Blairstown Farmers' Market: https://www.facebook.com/blairstownfarmersmarket
Instagram:
Foodshed Alliance: @foodshednj
LocalShare: @localsharenj
Paulins Kill Watershed: @pkwatershed
Blairstown Farmers' Market: @blairstownfarmersmarket
Linked In:
www.linkedin.com/company/foodshed-alliance