This delightful combination of spicy and sweet will definitely please your palette. It's got a little kick to it, but the coconut milk helps to mellow out the chili paste. You might want to double the recipe so you'll left-overs for the next day (we like them served cold for lunch). A side of jasmine rice goes very nicely.

Ingredients:
4 servings
1-3" piece fresh ginger
5 garlic cloves
¾ cup coconut milk
¼ cup hot chili paste
¼ cup fresh lime juice
2 Tbsp. light brown sugar
1 Tbsp. kosher salt
2 Tbsp. vegetable oil, plus more for grill
2 lb. skinless, boneless chicken thighs
½ cup cilantro leaves
Lime wedges for serving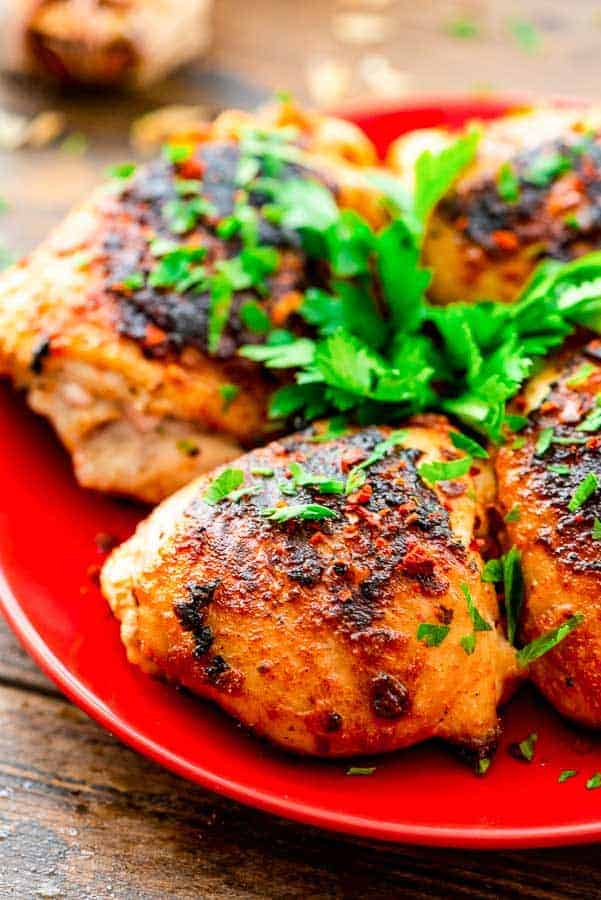 Directions:
Step 1
Heat grill to medium. Grate ginger and garlic finely into a medium bowl. Add coconut milk, chili paste, lime juice, brown sugar, salt, and 2 Tbsp. oil, whisk to combine. Add chicken to coat. Let sit 15 minutes or up to 4 hours.

Step 2
Remove chicken from marinade, place onto a rimmed baking sheet. Pour marinade into a small saucepan. Bring to a boil, reduce heat to medium-low and simmer, stirring occasionally, untilthick enough to coat the back of a spoon, 2–3 minutes.

Step 3
Generously oil grate of grill. Grill chicken, turning once and basting occasionally with marinade, until chicken is cooked through 8–10 minutes.

Step 4
Brush chicken with remaining marinade. Top with cilantro and serve with lime wedges.