DeBoer's Auto is thrilled to offer a fantastic opportunity for our valued customers: a Prepaid Mastercard rebate program designed to help you save money on your battery purchases. We understand that batteries are essential to your vehicle, and their regular replacement can become a significant expense. That's why we've partnered with Prepaid Mastercard to offer an exclusive rebate offer that makes battery replacements more affordable than ever.
When you purchase a battery at DeBoer's Auto, you're not just getting a high-quality product; you're also gaining access to substantial savings. Here's how the Prepaid Mastercard rebate works:
Now, this tiered offer can get you $15, $20 or even $25 back! Offer available November 1, 2023 – January 31, 2024.
$15 back on DieHard Gold:
AC Delco Silver
Autopart International
Bosch Quality Performance
Motorcraft Fleet Tough 12-Month
$20 back on DieHard Platinum:
Autopart International
Bosch Premium Performance
Motorcraft Fleet Tough 18-Month
World Source One Exact Fit
$25 back on DieHard Platinum AGM & DieHard EV:
ACDelco Gold AGM
Autopart International AGM
Bosch High-Performance AGM
Motorcraft Fleet Tough 36-Month
World Source One Exact Fit AGM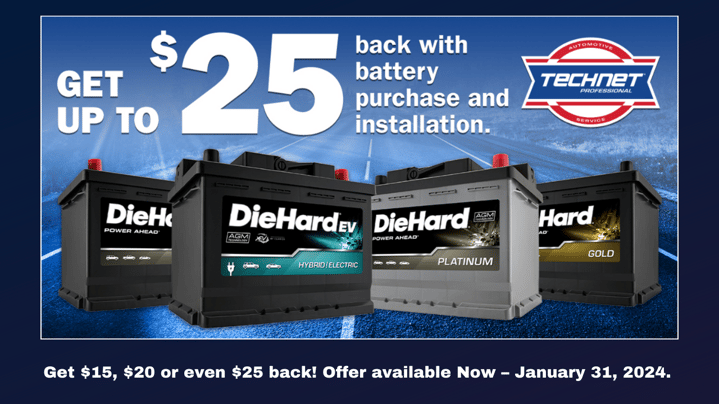 Don't miss out on this incredible opportunity to save money on essential battery replacements. Visit DeBoer's Auto today, purchase your battery, and take advantage of our Prepaid Mastercard rebate program. It's a win-win situation that allows you to keep your vehicle running smoothly while keeping more money in your pocket. At DeBoer's Auto, we're here to help you live life uninterrupted.