It's a pretty common thing, changing the oil in your vehicle. If you're like most people, you simply stop in at your favorite dealership, repair shop, or retail quickie oil-change location and get it done. In fact, if you're like some, you're lucky if you do it at all based on the timeline recommended in your vehicle's user manual. Hooray! You got it done. Total score for you- right? Wrong. Not all motor oil is created equal. Sadly, not all oil-change locations are created equal. And while legislation exists that is intended to protect vehicle owners from misleading oil change issues and their detrimental effects, it's not yet very effective in preventing them. Unfortunately, you could be patiently sitting in the waiting area of your favorite oil change establishment while they pour liquid death into your vehicle's engine. Why? Because most engines fail due to lack of lubrication. This means that the quality of your oil change is key to your vehicle's long healthy life. That sounds incredibly dire, and it was meant to. Worried? You should be.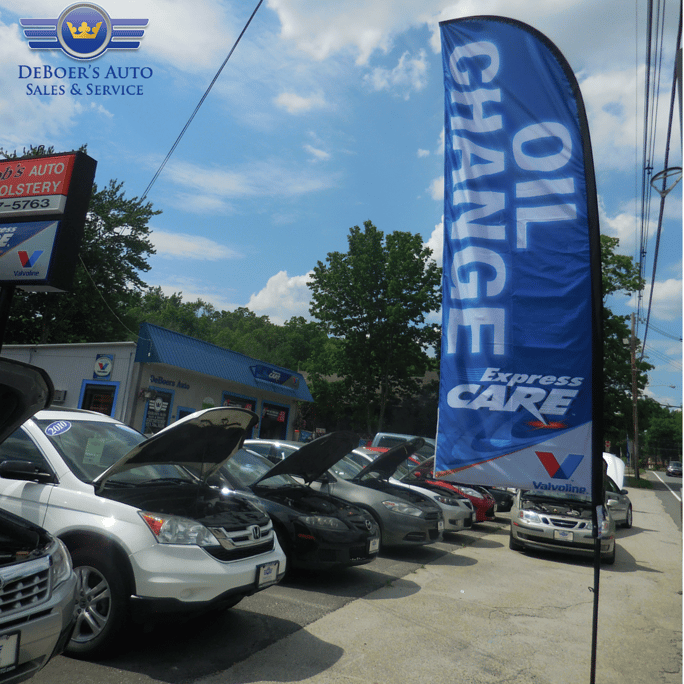 So moving on to solutions-how do you protect yourself and your vehicle? Know what oil your engine requires, diligently research and question your oil servicer to get the full skinny on what your oil change entails, and don't be afraid to seek out servicers like DeBoer's Auto who make all of that information and service incredibly easy and affordable for you.
Listen to Your Car…Or …Just Read the Owner's Manual!
The most basic thing you need to know about your vehicle is what type of oil its engine requires. Fortunately, most manufacturers put the correct oil type REQUIRED right on the oil cap. The reason you're being yelled at in the last sentence is because the correct oil type for your vehicle is not a suggestion-it's a must. Automotive oil is designed to decrease the stress and wear on the moving parts of your engine. The manufacturer of your vehicle instructs you on what type of oil is necessary for YOUR car or truck. Not complying with that instruction can lead to engine failure, and no one wants that! If you don't find the oil type for your vehicle imprinted on the top of your oil cap, it will most certainly show up in your owner's manual. So read up!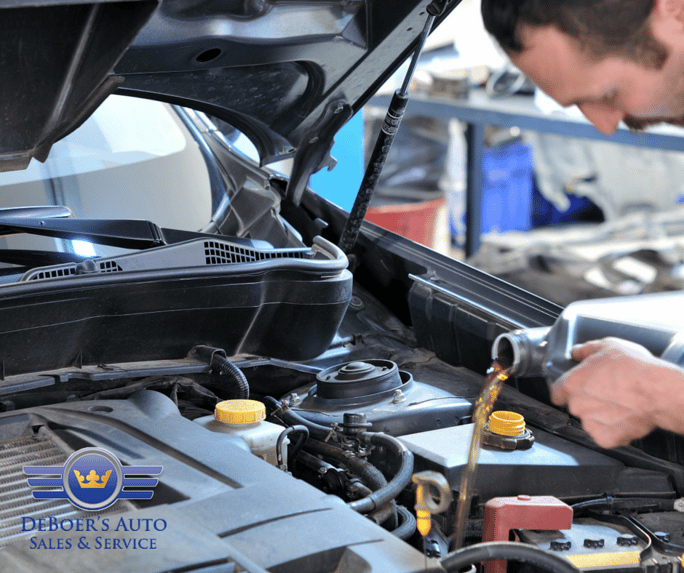 You're at the Shop…Now What?
So you're now armed with the basic knowledge of what type of oil your vehicle requires. Now you need to make sure you've armed yourself with knowledge pertaining to the quality of that oil, what makes it quality, and if your servicer is compliant with these requirements. You can do a lot of this research ahead of time.
For starters, you can let MOM help you. Um, no. Not your actual mom-please don't do that, unless of course your mom is a mechanic!! M.O.M. "Motor Oil Matters", is an organization and website http://www.motoroilmatters.org created by the American Petroleum Institute (API) to help customers better understand what kind of oil their vehicles require, in addition to pointing consumers in the direction of servicers who are committed to making sure their clients receive the optimum oil change necessary for a smoothly running, problem-free engine.
Consumers run into problems when dealerships and garages use private-label oils that may not show up on MOM's list of quality approved motor oils. What exactly is IN these other oils that are in the market? What do they mean for your vehicle?
It's incredibly easy to identify automotive oil approved by MOM. For example, if you check out MOM's website, you'll see that it's incredibly easy and natural for you as a consumer to require an API licensed motor oil. You can identify these oils by either the API "donut" or "starburst" logos. Donuts prominently display the viscosity grade of oil in addition to the brand's suitability for gas-powered or diesel vehicles, while starbursts indicate an additional thumbs up from the Lubricant Specification Advisory Committee (ILSAC) standard. This means the oil you're receiving additionally adds emissions and fuel economy benefits. On the other hand, manufacturers like Kendall oils barely pass OEM, or OE (original equipment manufacturer) standards.
Also helpful, recent requirements enacted that began July 1, 2014 by the National Conference of Weights and Measures (NCWM) ask oil change retailers to list the oil used in your vehicle on your billing statement. Necessary information includes oil manufacturer and brand, viscosity, and service requirements. If the servicer providing your oil change is reluctant or unwilling to reveal what oil they're using for your vehicle, or if you're unhappy or unfamiliar with the oil they are using, find another servicer-IMMEDIATELY.
Making a Change
If you walk out of your current oil change servicer's establishment, the fact remains that you still need that oil changed. What should you look for in an above-board, honest, and quality oil-using establishment? Well, DeBoer's Auto is one such good example. This business is transparent in its use of only Valvoline quality oils. Valvoline is a company with 140 years' experience in manufacturing and perfecting vehicle lubricants-and not only does DeBoer's use Valvoline, they're audited by the company to insure compliance. DeBoer's also checks in on your other fluids, such as transmission, windshield, and antifreeze, in addition to checking your tire pressure and serpentine belt. DeBoer's also complies with the billing requirements outlined by the NCWM as mentioned above. Honesty, affordability, and dedication to quality service are all things you should not only expect, but demand from your oil change service establishment, and DeBoer's Auto delivers.
The bottom line is-an oil change is not JUST an oil change. Because it's a fairly speedy service, the general consensus among average vehicle owners is that it's not an important one-just a quick, necessary, and trivial task. But clearly, that is not so. Be an educated oil-change consumer, and make sure you're getting not just the correct motor oil for your engine, but the best. Think of it as a healthy smoothie for your vehicle as opposed to a sugar loaded soft drink. Your car will thank you.