The state of New Jersey is ideal for taking summer road trips. Whether you live in New Jersey or a surrounding state, you could spend a good portion of your summer simply driving to different destinations and spending a few days there. One of our favorite spots to visit every summer is High Point State Park. With amenities suitable for people of all ages, it's well worth a summer road trip there if you're looking for something to do.
Enjoy The Amenities At High Point State Park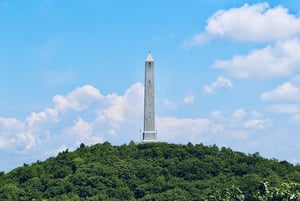 High Point State Park has great amenities for people to enjoy, including the lake, picnic area, the Appalachian Trail, many other smaller trails, Sawmill campground, cabins for renting and more. The Sawmill campground has a nice little lake and plenty of camping spots you can rent if you want to have a camping adventure this summer. A little farther down High Point is a lake where you can go fishing if you have any interest in that activity. The cabins are also great for staying in since there are only three available, so you can enjoy a peaceful environment while you stay.
Not Just A Summer Destination
While there are plenty of things to do during the summer at High Point State Park, remember to visit it during the winter as well. Cross-country skiing is available at that time for anyone to enjoy. No matter what the weather is like, High Point State Park is a comfortable place to be with something to do for everyone.
Gas Up Your Car And Try A New Adventure
Anyone looking to spend quality family time this summer would have a great experience at High Point State Park. The road trip could be a little longer depending on where you are located, but with so many different things to see and visit along the way, the trip will seem like a breeze. The Slate Kitchen is a popular spot for some sandwiches as you're on the road. Or if you're looking for more of a sit-down restaurant, Elias Cole Restaurant has some fantastic lunch and dinner options. Fuel up your car and hit the road to High Point State Park this summer and check them out again if you aren't able to do everything you want to on your vacation.
DeBoer's Auto wants to make sure your summer road trips are safe and worry-free. One of the biggest reasons why a vacation could be ruined is by having car trouble. When your car breaks down on the side of the road, it could mean expensive towing bills and lost quality time with your family. Before you head out for your summer road trips this year, bring your vehicle to us for an inspection and we will ensure it's ready to hit the road safely. And as always, feel free to contact us at any time if you have questions or concerns about your vehicle or need recommendations for popular summer destinations.