The Little Free Library at DeBoer's Auto on the Corner of Edsall Street and Route 23

In a world that's increasingly digital and fast-paced, it's refreshing to see small initiatives that bring a sense of nostalgia and community back to our neighborhoods. One such initiative has taken root at DeBoer's Auto, nestled on the corner of Edsall Street and Route 23 – a charming and inviting Little Free Library. This unassuming wooden box, filled with books of all genres, is not just a repository of literature; it's a symbol of the power of community, connection, and the joy of sharing stories.


A Glimpse into the Little Free Library Movement
The concept of the Little Free Library is simple yet profound: take a book, leave a book. Started in 2009 by Todd H. Bol in Hudson, Wisconsin, this grassroots movement has since spread to more than 100 countries, fostering a culture of reading and neighborly generosity. The idea is to create mini-libraries in public spaces, encouraging individuals to borrow books, share their favorites, and contribute to a communal exchange of ideas.

DeBoer's Auto: A Hub of Literacy and Friendship
DeBoer's Auto, a local fixture for car maintenance, took this heartwarming initiative to new heights when they decided to install a Little Free Library right on their premises. The vision was clear – to transform their corner into a hub not only for automobile aficionados but also for those who seek intellectual nourishment.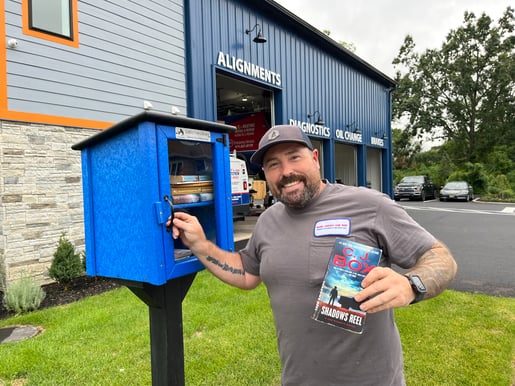 The library itself is a quaint structure, crafted with care and painted in cheerful colors that evoke a sense of childhood wonder. Amidst the bustling sounds of traffic and the hum of city life, the Little Free Library stands as a gentle reminder to pause, explore, and connect. Passersby can browse a diverse selection of books, from classic novels to cookbooks, memoirs to mysteries, all lovingly contributed by members of the community.

Enriching Community Bonds through Literature
What sets this Little Free Library apart is the way it has seamlessly woven itself into the fabric of the local community. It's more than just a place to pick up a good book – it's a catalyst for conversations, interactions, and friendships. As individuals pause to select a book, they inadvertently engage in brief yet meaningful exchanges with fellow readers. Discussions range from book recommendations to fond reminiscences of childhood favorites, creating bonds that extend beyond the pages.

Parents walking their children home from school stop by to share the magic of storytelling. Commuters waiting for the bus find solace in the pages of a well-worn novel. Evenings see neighbors gathering around the library, chatting about the latest bestsellers or sharing anecdotes inspired by the books they've read. In a world that often prioritizes screens over faces, the Little Free Library at DeBoer's Auto serves as a gentle reminder of the joy of human connection.

Embracing the Little Free Library Spirit
The installation of the Little Free Library at DeBoer's Auto has become a beacon of hope, reminding us that even in the midst of our busy lives, we can come together to share the gift of reading. It encourages us to take a step back from our screens, immerse ourselves in a good book, and perhaps strike up a conversation with a fellow book lover. It's a celebration of literature, community, and the simple pleasures that bind us.

So, the next time you find yourself passing by the corner of Edsall Street and Route 23, take a moment to visit the Little Free Library at DeBoer's Auto. Whether you're a bibliophile, a passerby, or a local resident, this charming wooden box promises not just books, but a warm invitation to connect, share, and rediscover the beauty of stories – both on its shelves and within the hearts it touches.