It's no secret that a college degree isn't the only path to success. There are many high-paying jobs that don't require a four-year degree, and one of them is in the automotive industry. If you or your child is interested in pursuing a career in the automotive field, there are a few different options for technical education.
Local High Schools
Many local high schools offer courses in automotive technology. These courses can give students a head start on their automotive studies and may even offer certification from the National Institute for Automotive Service Excellence (ASE).
In addition, high school students who are interested in pursuing a career in the automotive field may want to consider attending a vocational school like Sussex Technical High School or Wallkill Valley Regional High School which has an automotive program.




At the College Level
There are also many colleges that offer programs in automotive technology. Sussex County Community College, Lincoln Tech, and UTI are all good options. These programs typically take two years to complete and result in an Associate's degree. https://sussex.edu/


Apprenticeship Programs
Another option for those interested in an automotive career is to enter into an apprenticeship program. Apprenticeship programs are basically on-the-job training where you learn while you work and get paid for your time.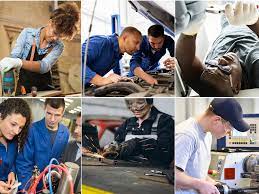 If you are looking to start a career as an automotive technician, then DeBoer's Auto is the place for you. Our apprenticeship program offers paid training and hands-on experience while you work towards your various certifications. This training typically takes between 18 months and two years, depending on your individual pace and level of expertise. Along the way, you will earn up to four ASE certifications that are recognized nationwide, putting you right at the top of your field. And on top of all this valuable experience, we also provide you with a comprehensive toolbox that is packed with high-quality tools worth over $2,000. With all these great benefits and more, if you're ready to launch a successful career in automotive tech, come join us today and let's get started!
No matter what your educational background is, there's a place for you in the automotive industry. If you're interested in pursuing a career in this field, contact us, we can help you research your options and find the path that's right for you. With hard work and dedication, you can achieve your goals and enjoy a successful career in this growing industry.