Moving Truck Rental

Moving to or from Hamburg NJ 07419? Get FREE truck rental rate quotes at DeBoer's Auto Inc. U-Haul rental trucks are specifically engineered from the ground up to assist moving families, not freight. Our moving trucks have more safety features than other moving trucks in the industry including gentle ride suspension and high visibility mirrors to assist the driver. Whether you are moving a smaller apartment or a large four-bedroom house, U-Haul truck rentals in Hamburg, NJ will provide you with the moving truck rental you need to get from point A to point B. Find the perfect size moving truck to assist with your move, U-Haul is home of the $19.95 rental truck!
Cargo trailers
Cargo trailers in Hamburg, NJ are lightweight, aerodynamic, and engineered for better fuel economy which makes it easy to tow behind any vehicle. Millions of families use our enclosed cargo trailers to move every year. U-Haul has a large selection of enclosed trailers to rent in-town or one way, review our cargo trailer sizes and reserve a trailer rental online at DeBoer's Auto Inc!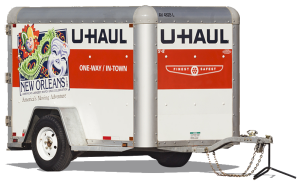 Utility trailers
Utility trailers are perfect for towing large or oversize cargo in Hamburg NJ 07419. Many utility trailer rentals come equipped with a loading ramp for easy convenience. The utility trailer selection at DeBoer's Auto Inc provides an affordable solution for home improvement projects, furniture delivery and for towing recreational vehicles. Utility trailer rentals are also popular with businesses for deliveries and trade-show events. Utility trailers come in a wide range of sizes and styles so that any car can tow.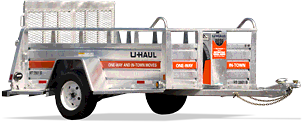 Car trailers
Moving cross-country with your vehicle on a car trailer is a smart way to save gas and eliminate miles of wear and tear on your vehicle. Our Tow Dolly is a low-cost option for towing front wheel drive vehicles, while auto transports are ideal for long distance moves. Both car haulers fit most sized vehicles in Hamburg, NJ and are also an economical alternative to calling a tow truck in the case of a break-down. Whether towing behind a U-Haul moving van or your own personal vehicle, you can rent a car hauler for both in-town and one way moves.

Motorcycle trailers
Motorcycle trailers in are lightweight, easy to tow and have an easy-access loading ramp. Each motorcycle trailer also comes equipped with an integrated chock for the front wheel and with heavy-duty tie-down rings to support even the heaviest of motorcycles. Reserve your motorcycle trailer rental in Hamburg, NJ online today!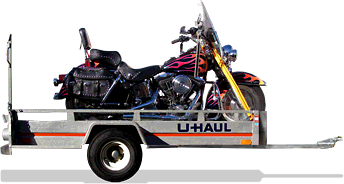 Get a free quote quote now!